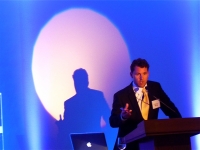 Tacoma, Wash., September 17, 2012 – Rome wasn't built in a day, and after a 10 year massive undertaking, LeMay Car Museum in Tacoma opened its 165,00-sq.-ft. complex in Tacoma, WA. On a beautiful warm evening Friday, September 14, Evergreen Eye Center hosted over 38 local optometrists and their guests to a memorable evening of fun and education at America's largest newly opened car museum. It was one of LeMay's first corporate events.
Evergreen Eye Center's, Robert A. Tester, M.D., gave a thorough presentation on "Co-Managing Premium Lenses" used in micro-incisional cataract surgery followed by a brief question and answer session while guests enjoyed a dinner catered by Pacific Grill. There was considerable interest in Evergreen's revolutionary new ORA system,, the first system in the state of Washington to provide real-time measurements of the patient's eye during cataract surgery which provides better outcomes than ever before for cataract surgery patients. Evergreen Ophthalmologist's Dr. Jarstad and Dr. Chung also attended and were able to personally address attendees questions along with Dr. Tester.
After the presentation, guests enjoyed music by Pierce County's top-rated entertainer of the year, R & B / classic rock artist Kim Archer, a nostalgic Americana dessert bar, and a self-guided tour of the world-class museum's 350 cars, trucks, and motorcycles that span over a century of American automobile manufacturing. Many guests had personal experiences with certain cars in this collection which evoked many fond memories and feelings associated with them. Attendees received continuing education credits and a fun swag bag for attending.