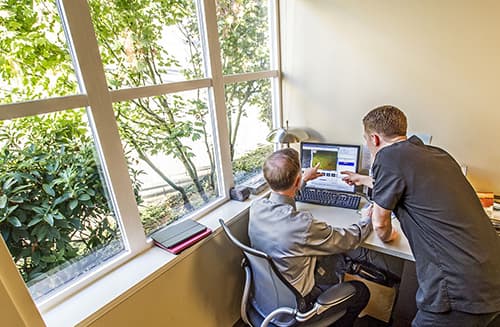 Fully Committed to Eyecare Co-Management… on Your Terms
Here at Evergreen Eye Center, we support and encourage co-management for the benefit of everyone involved: you, us, and most importantly, your patient. When you refer a patient to us for surgical care, they will return to you glad that you partnered with us in their care. In short, we're here to provide world-class surgical care that will reflect well on you.
As their doctor, your ongoing care is crucial to fulfilling your patients' needs
First and foremost, your patients have developed a strong relationship with you — a relationship that we respect and nourish throughout their experience with our practice. To fulfill our commitment to provide patient-centered care, we do everything we can to improve your patients' comfort, convenience, and outcomes. And we know from experience that co-management is a major factor in accomplishing that goal.
For your convenience, we're open to a variety of co-management arrangements
Whether you want our surgeons to diagnose a potential disease, manage that disease, simply performs an operation, or operate and manage your patient's post-operative care, your preference will always guide the nature of our arrangement. And if you refer a patient to us, we always want your insight on your patient's condition. After all, they're your patients, and your input and involvement are important to providing them optimal outcomes.
We're here to help you provide your patients with the best care possible
To interface seamlessly with your care, we will inquire about any treatments you're already providing to your patient. Additionally, we will take the time to explain the co-management arrangement to your patient and return them to your care you after we've fulfilled our responsibility — whether that's a dry eye diagnosis and/or treatment, a cataract operation, or a LASIK procedure.
Our time-tested and efficient care-delivery systems ensure patients will return to you, happy that you partnered with us for their care. And while we have optometrists on staff to assist with eye surgery and disease management, we do not provide optometric services such as glasses and contact lenses.
Our offices are conveniently located in Seattle, Tacoma, Federal Way, Auburn, and Burien. We look forward to supporting your practice and are happy to discuss our co-management arrangements in greater detail.