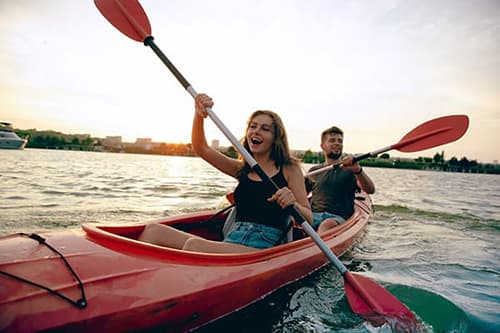 If you want to decrease your dependence on contact lenses or glasses, then LASIK vision correction surgery may be right for you. LASIK is a permanent vision correction procedure that eye surgeons perform on an outpatient basis to correct nearsightedness, farsightedness, and astigmatism.
It is one of the most common elective procedures and has a very high satisfaction rate. At Evergreen Eye Center, our LASIK surgeons have the experience and expertise needed to improve your quality of life through permanent vision correction.
What is LASIK?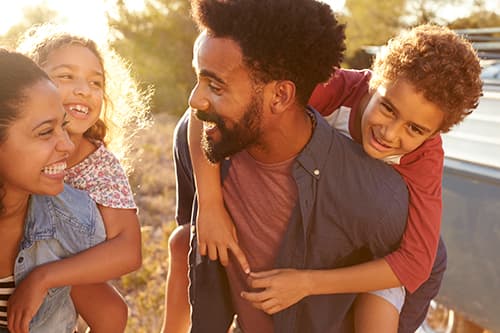 LASIK is an acronym for laser in-situ keratomileusis. LASIK surgeons often perform this procedure on adults whose eyes are healthy.
Your LASIK surgeon may have specific age requirements for the procedure. However, LASIK is not FDA-approved for people under eighteen because their eyes are still growing.
Certain eye conditions may also affect your candidacy for the procedure. The first step in determining if LASIK is right for you is to schedule a consultation with your eye doctor.
The expert doctors at Evergreen Eye Center are experienced surgeons and have performed hundreds of successful LASIK procedures. Once your eye doctor determines you are a good candidate for the procedure, they will explain what you can expect before and after the procedure.
How Does LASIK Improve Vision?
Your eye doctor will photograph and electronically map your eye during your LASIK consultation. These measurements will guide your LASIK surgeon during the procedure to ensure the most successful results. The cornea is the round dome at the front of the eye. During the LASIK procedure, your LASIK surgeon will use a laser to reshape the cornea.
Reshaping the cornea allows light entering the eye to focus correctly onto the retina. When the light is able to focus directly on the retina, your brain can produce a clear image. If you are nearsighted, your LASIK surgeon will flatten the cornea.
For those who are farsighted, the eye doctor will make their cornea steeper. To correct astigmatism, your eye doctor will use the laser to smooth your cornea into a normal shape. Correcting your natural refractive error will improve your vision and reduce your dependence on contact lenses and glasses.
What Happens During the LASIK Procedure?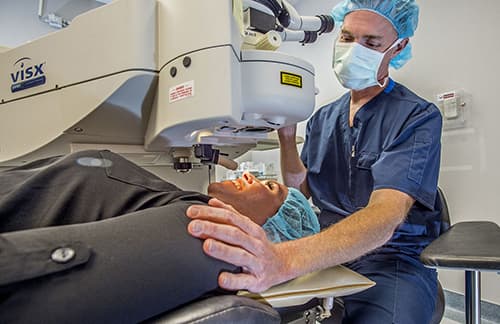 Before the LASIK procedure, your eye doctor will numb your eyes with eye drops. You will be awake during the entire procedure, which only lasts about twenty minutes.
Next, your eye doctor will use a laser to create a flap on the front surface of your cornea. The LASIK surgeons at Evergreen Eye Center use the latest state-of-the-art equipment when performing LASIK surgery.
Our doctors use the bladeless LenSx femtosecond laser to create the corneal flap. Your LASIK surgeon will then use the VISX Star SF laser with custom wavefront technology to reshape the cornea for the best results possible.
Once your LASIK surgeon has reshaped your corneal tissue beneath the flap, they will reposition the flap. The flap will naturally re-bond with your eye without the need for stitches.
What is the Recovery Process like for LASIK
Most people notice improved vision in the first few days after the procedure. Your vision will continue to improve in the weeks following the surgery.
You will not be able to drive on the day of surgery but will be allowed to resume driving as soon as your vision improves. In addition, your eye doctor may recommend that you take two to three days off work to rest after the procedure.
Some people may experience dry eyes after the LASIK procedure. Your eye doctor may recommend using lubricating drops to treat these symptoms.
Your eye doctor may require you to refrain from certain activities, like contact sports, for a couple of weeks to months to allow enough time for proper healing of the corneal flap. You will also need to visit your LASIK surgeon for follow-up visits to ensure there is no risk of complications.
To promote healing, your doctor may ask you to use prescription eye drops to aid in your recovery. The LASIK procedure has a very high satisfaction rate, with over 96% of people reporting they are happy with their results.
What Are the Benefits of LASIK?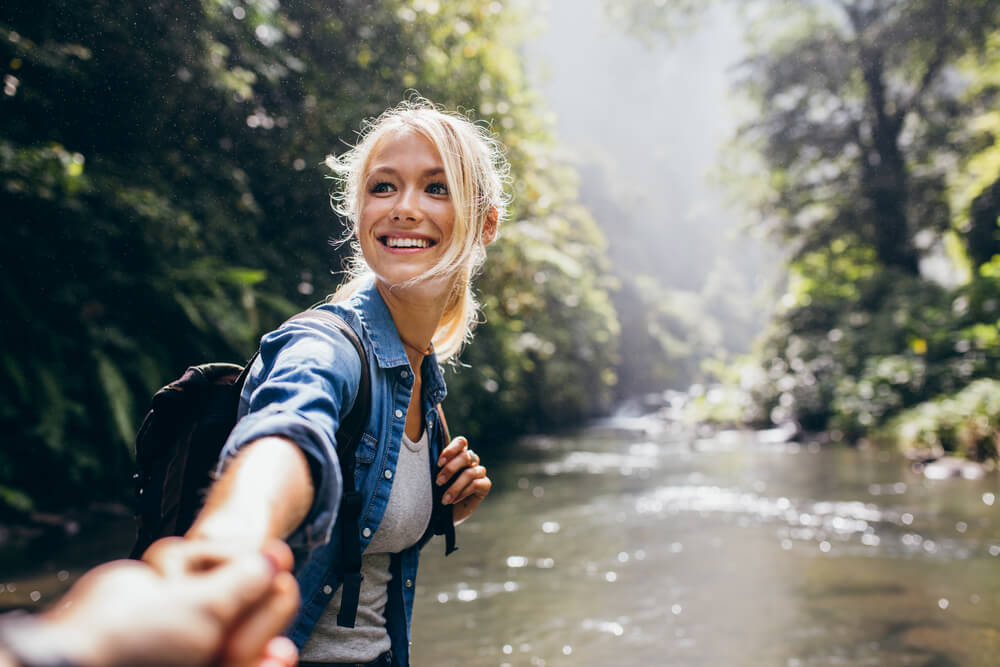 Anyone who has relied on glasses or contact lenses for clear vision knows that it can be irritating and inconvenient. Glasses and contact lenses can be particularly bothersome for those with an active lifestyle.
Even daily use of contact lenses can leave eyes dry or scratchy, especially after a long day working on a computer. After LASIK surgery, most people experience reduced dependence on glasses or contacts.
LASIK can also be ideal for anyone who has a career that requires activity at a moment's notice. As a first responder, military member, or someone who frequently travels, packing glasses, contacts, and other materials can be inconvenient and cost valuable time.
In addition, there are several thousands of dollars in cost savings in the long run by not needing glasses or contacts anymore. LASIK is a safe procedure and is a good solution for people who want to improve their vision permanently.
Why Choose Evergreen Eye Center
At Evergreen Eye Care, our eye doctors are dedicated to providing patient-centered care. Our experienced eye surgeons perform the most advanced LASIK treatment available.
The first step to finding out if LASIK is right for you is to schedule an appointment with the experienced eye surgeons at Evergreen Eye Care. Your eye doctor will take your medical history and discuss your expectations and lifestyle.
Once you are confirmed to be a good candidate for the procedure, they will explain what to expect before and after LASIK surgery. In addition, because LASIK is an elective procedure, our office staff will go over your payment options.
Are you interested in learning more about how LASIK can improve your quality of life? Schedule an appointment at Evergreen Eye Center today!