See Clearly Again with Comfortec Cataract Surgery™ from Evergreen Eye Center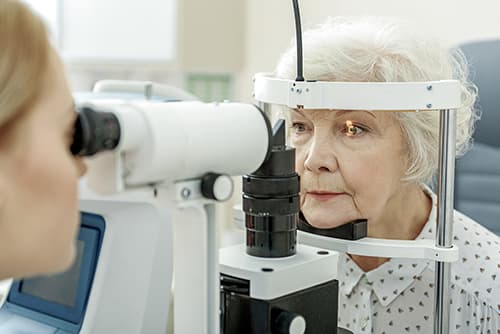 If your vision is cloudy or not as clear as it once was, you may need cataract surgery. It is important to realize that all cataract surgery – even in experienced hands – is not the same.
Some eye centers still use needles to inject numbing medication around the eye or start an IV to administer sedation for all their patients. Most rely on a month-long routine of drops post-surgery. But we have a more gentle and simple alternative.
At Evergreen Eye Center, you can have comfortable, patient-centered cataract surgery in our soothing surgery center delivered by a team focused on your needs. We endeavor to create an entire experience that leaves you angst-free from beginning to end. Here is what makes us different:
Gentle, Technologically Advanced Cataract Removal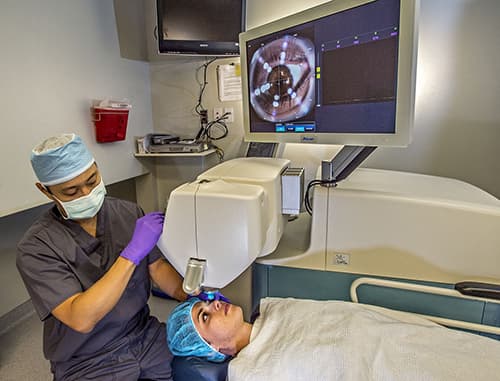 With no stitch, no needle sticks around the eye, no IV and no month-long routine of eye drops following treatment, cataract surgery is simply less stressful at Evergreen. As the team who pioneered the bladeless, femtosecond laser LenSx® procedure in Washington, we have the region's most experienced surgeons with this highly precise, yet gentle procedure.
In a quick, 20-minute session, your Evergreen Eye Center surgeon will efficiently remove your cloudy lens, replace it with a new lens and administer medicine inside the eye to ensure a dropless recovery. Then you are on your way home.
(For those patients who are not a candidate for dropless surgery, we also have "less drops" – all three post-operative medicines in one convenient drop.)
Options with Our Premium Intraocular Lens (IOLs)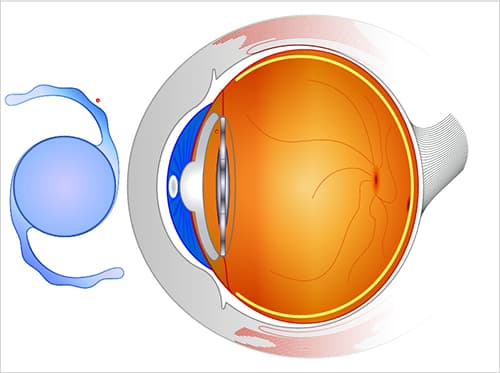 For your new replacement lenses, Evergreen has a full range of IOL options. You can choose a standard single-vision lens, which will be clear but only focused at a fixed distance. You may still then require glasses or contacts.
Or, you can select from a complete range of premium IOLs, including:
Multifocal- Our advanced multifocal lenses are designed to restore a full range of vision, to decrease your need for glasses for distance and near vision.
Toric – Normal spherical IOLs don't account for astigmatism due to misshapen corneas, but our toric lenses do! With them, people with astigmatism can take full advantage of the benefits of cataract surgery and enjoy better vision.
Toric Multifocal – With this new advancement, now even those patients who have higher levels of astigmatism can enjoy the full range of vision previously unavailable to them with standard multifocal lenses.
With Dropless Cataract Surgery, Recovery is Easier
By introducing dropless cataract surgery to the Puget Sound area, our specialists have overcome the hassle of having to use weeks of expensive postoperative eye drops to prevent infection and inflammation. During your procedure, your surgeon will administer a combination of antibiotics and anti-inflammatory medications directly to your eye. Your eye will slowly absorb these medications over the next month, eliminating most people's need for eye drops.
Dropless therapy is offered at no additional cost to you, potentially saving you hundreds of dollars on eye drops, not to mention preventing you from having to adhere to a complex drop routine following surgery.
Leading-edge, Patient-centered Care
For more than 25 years, Evergreen Eye Center's board-certified ophthalmologists have set the standard for cataract surgery in the Puget Sound by being devoted to patient-centered care. This means commitment and compassion as well as technology and great results for the best possible patient experience.
For more about Comfortec Cataract Surgery, or to schedule an appointment, call 800-340-3595.