Evergreen Eye Center wins Best of Auburn 2010 Award!
The people have spoken: Evergreen Eye Center was chosen in the "Best of Auburn" readers' choice contest that was conducted from July 23 through August 16, 2010.
There were 48 categories including dining, shopping, and services. Readers chose Evergreen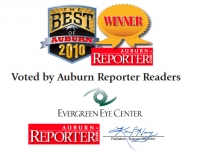 Eye Center, via written ballot or online, as one of their favorites. Winners were published in the Auburn Reporter.
Evergreen Eye Center has delivered state-of-the-art eye care with a personal touch for more than twenty years.
Dr. Tester and the rest of the staff at Evergreen Eye Center want to thank the people of Auburn for this recognition and are proud to be a member of such a warm and friendly community. In addition to Auburn, Evergreen Eye Center has offices in Federal Way, Burien, and Enumclaw—all dedicated to providing caring, competent service.