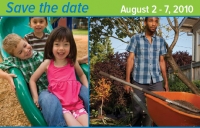 Thanks to everyone who stopped by the Evergreen Eye Center booth at the Be Well Health Fair on Saturday, August 7th!
Congrats to Meredith Eddy from Seattle. Meredith has won a stay at the Great Wolf Lodge in Grand Mound, Washington!
For more information about Be Well Washington visit www.bewellwashington.com.