Evergreen Eye Center's referral coordinator Heidi Hanscom was driving along a country road with her husband Rob when they passed a cyclist in distress after apparently blowing out a bike tire. Heidi, who used to provide support to cycling races, had her husband turn around and pick up the cyclist.
Heidi had a hoot talking to their guest and learned that he was none other than Matt McAllister, DJ on The Morning Wolfpack on 100.7 FM The Wolf.
Heidi promised him a swag box from Evergreen so we could join his "Mug Club."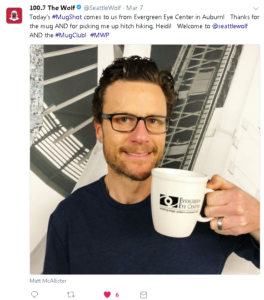 After joking about picking up hitchhikers on the air, Matt decided to punk Heidi at work. He called and posed as a patient who had been kicked in the head by a horse and now sees cross-eyed. (You can listen to it here. Cue it up to about 26.48 to listen to the segment.) Heidi handled it with professionalism and empathy – and a great sense of humor.
So perhaps the moral of the story is that while picking up hitchhikers isn't always a good idea, sometimes helping out someone stranded can turn into an amusing friendship.