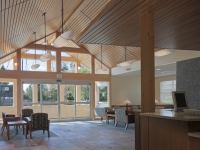 Auburn, Wash. April 16, 2012– After decades of providing advanced medical eye care to residents in and around the Green River Valley, a specialty surgical practice has moved out of its small leased Auburn location– and into its own 8,100 square-foot building within sight of the old front door. This highly anticipated facility will exponentially advance Evergreen Eye Center's award-winning surgeons and skilled staff's ability to evaluate and treat a full range of eye diseases and disorders.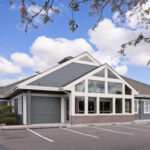 The beautiful new facility is equipped with 12 exam rooms, a retina lab, laser room, handicapped parking, automatic doors, and a call ahead concierge service for patients needing additional assistance.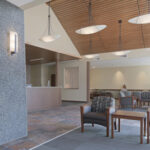 From the single-level entry, wide hallways, beautifully appointed reception areas and comfortable seating with a fireplace and refreshment service to the advanced patient education technology, the new clinic merges the best of medicine with the spa-like comfort of an elegant lodge. "We've taken what we've learned in decades of patient care and incorporated it into the layout, design and services of this clinic," said Rick Boudreau, Practice Manager of Evergreen Eye Center.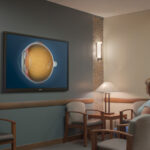 "The larger facility will offer expanded services, such as retinal laser treatments and injections for macular degeneration," said Dr. Robert Tester, who also specializes in micro-incisional cataract surgery.