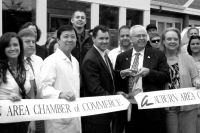 Auburn, Wash., June 1, 2012 — Auburn Mayor Pete Lewis and Economic Development Manager Doug Lien helped Evergreen Eye Center physicians and staff celebrate a well-attended grand opening of our brand new state-of-the-art facility in Auburn on Thursday, May 31, 2012. Business members of the community, patients, and family and friends enjoyed a delicious dinner and live entertainment and met with the Evergreen Eye Center team to tour the beautiful new clinic that merges the best of medicine with the spa-like comfort of an elegant lodge.
"I am excited to have this new facility so close to home," said Mike Turney of Auburn. "I used to have to travel to Seattle to receive advanced Retina care. Now there is a clinic close to home with excellent surgeons and testing equipment to treat me. Access is easy in and easy out. "
Claudia Griffin, a retired Evergreen Eye Center employee, worked nearly 20 years for the practice and watched it grow from a small, single office clinic to the large multi-office practice it is today with 4 locations and an Ambulatory Surgery Center in Federal Way. "The growth is so exciting. This new clinic will provide patients with more options and advanced medical eye care and provide many more jobs in Auburn. I miss working at the clinic. This new office is so beautiful–I am thinking of coming back."
Javier Lopez stated, "I really enjoyed meeting the doctors and staff. There was a very friendly vibe here tonight. I think this is the most beautiful interior in Auburn, and I'm not just talking in relation to offices, but compared to any restaurants or shops too."
The 8,100 square foot building is designed with patient comfort in mind and will be able to treat a wide variety of eye disorders and diseases by our award winning ophthalmologists. The clinic is open Monday through Friday from 8:00 to 4:30 p.m. and is accepting new patients.