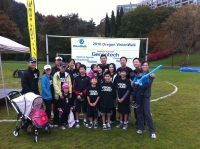 Dr. Chung and his wife Katherine participated in the 2010 Oregon VisionWalk, a fundraiser for sight-saving research. Their team, Vision Quest, with the help of Evergreen Eye Center shareholders, was the top fundraiser, raising more than $5000 for Foundation Fighting Blindness, a national organization dedicated to driving research into retinal degenerative diseases.
Every year there are 5k VisionWalk fundraising events in 47 cities across America, with 45,000 walkers raising more than $13 million since the program's inception in 1996. The Oregon walk this year had 26 teams participating to raise more than $30,000. The events help fund research that will, according to their website, "provide preventions, treatments, and cures for people affected by retinitis pigmentosa (RP), macular degeneration, Usher syndrome, and the entire spectrum of retinal degenerative diseases."
Dr. Chung specializes in the treatment of corneal disorders and other external diseases of the eye. The experience with Oregon VisionWalk is particularly poignant since Katherine Chung suffers from retinitis pigmentosa.
We'd like to extend heartfelt congratulations to Dr. Gary and Katherine Chung and thank Team Vision Quest and all their supporters for doing such a miraculous job. For more information on how you can support Foundation Fighting Blindness, please visit their website at www.fightblindness.org/site/PageNavigator/VisionWalk_Homepage.