On Thursday, June 7, Evergreen Eye Center will be hosting our first Seattle Summer Continuing Education (CE) Event for optometrists!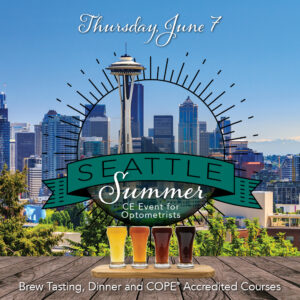 The event will take place at the Washington Athletic Club (aka The WAC) and will kick off at 2 p.m. with a brew tasting featuring great PNW brands.
The educational content will begin at 3 p.m. and will feature four courses lead by expert speakers in the areas of cataract surgery, dry eye treatment, glaucoma and patient care.
The topics will be:
Thinking Outside the Box: Off-Label Use of Therapeutic Agents by Hans O. Bjorn, OD
Comfortec Cataract Surgery™ by Gary W. Chung, MD
Chronic Dry Eye Disease 80s Dance Party Style by Laura M. Periman, MD
2018 Glaucoma Update by John J. Whitehead, MD
If you attend all courses, you could be eligible for four COPE-Approved CE credits.
There will be a break for a dinner at 5 p.m. The evening will end at 8 p.m. with coffee and desserts to send you on your way educated and full of sugar! It promises to be an evening of learning, networking and congeniality.
Optometrists also can earn CE credits for observing surgery in our state-of-the-art ambulatory surgery center (ASC) in Federal Way. Time slots are typically available Tuesday through Thursday between 8 a.m. and 3 p.m. This is the perfect opportunity to learn more about Comfortec Cataract Surgery™ at Evergreen!
To register for the summer CE event or to observe surgery, please contact our Physician Liaison Liza Marie Hayward at LHayward@EvergreenEye.com.
We look forward to seeing you soon!