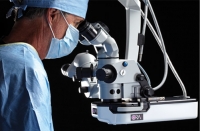 Seattle, September 10, 2013 – WaveTec Vision recently announced that its highly anticipated VerifEye™ monitoring system is now available commercially and Evergreen Eye Center is the first to offer this system in the Seattle-Tacoma area. VerifEye is a hardware upgrade for the proprietary ORA System®, which is used by ophthalmic surgeons worldwide to improve the accuracy of cataract surgery.
VerifEye enables surgeons to confirm eye stability prior to measurement by providing streaming refractions in a preview screen. Surgeons consider this a significant benefit – one that is translating into more precise surgery, more refined visual outcomes and more satisfied cataract surgery patients.
"We've been fortunate to be among the first surgeons in the nation to work with the new ORA System with VerifEye and of the cases my staff and I have performed to date, we are seeing LASIK-like results in cataract surgery," said Dr. John Jarstad, Medical Director at Evergreen Eye Center Federal Way. "This advancement marks a real turning point in our field," added Dr. Robert Tester at Evergreen Eye Center's Auburn facility. "VerifEye's advanced guidance results in increased confidence for me and optimized outcomes for my patients," noted Dr. Gary Chung from the Evergreen Eye Center Burien facility.
ORA-guided cataract surgery enables surgeons to measure the eye and refine outcomes during the procedure, rather than having to 'wait and see' as with traditional cataract surgery. And now, when combined with VerifEye, the accuracy and results of ORA-Guided procedures continue to be enhanced.
"The world's most progressive cataract surgeons are adopting the ORA System now with VerifEye because they believe they can provide improved outcomes for their patients," said Tom Frinzi, WaveTec President and CEO. The company is currently tracking to exceed 80,000 ORA-guided cataract surgeries this year. This represents over two percent of all U.S. cataract procedures.
About WaveTec Vision
WaveTec Vision is the leader in intraoperative wavefront measurement technology for refractive cataract surgeons, providing on-demand information that enables the best possible vision for patients. For more information visit www.wavetecvision.com.