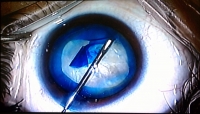 FEDERAL WAY, Wash., Jan 12, 2012 — Evergreen Eye Center is the first clinic in the USA to use the new ultra high definition Leica M822 surgical microscope for eye surgery.
Dr. John Jarstad, Founder of The Evergreen Eye Center was the first US surgeon to use the new, Swiss microscope. Dr. Jarstad recently completed the first 50 cataract procedures in the USA using the M822.
"I have been a loyal Leica microscope owner since 1989; this new surgical microscope has taken eye surgery to another level. The resolution and HD effects of this device will improve patient outcomes and safety by allowing never before seen details during eye operations."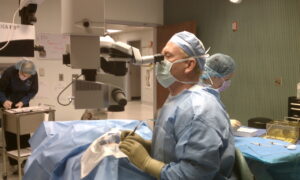 The M822 is the latest version of micro surgical imaging systems which includes an ultra high definition video camera. Dr. Jarstad compared the details of the new microscope to HDTV or 3D Movies compared to the older style of standard television.
"This microscope will revolutionize the practice of modern eye surgery and provide an extra margin of safety for the surgeon by providing unmatched clarity and definition to the microscopic world we eye surgeons work in," said Dr. Jarstad.
Dr. Jarstad and Evergreen Eye Center are no strangers to innovation and medical firsts. Dr. Jarstad was the first surgeon in Washington to perform cataract surgery without stitches and is the inventor of the Jarstad cataract surgery marker. He was among one of the first surgeons to perform LASIK in the United States starting in 1996. Dr. Jarstad is a graduate of Brigham Young University, UW School of Medicine, and the Mayo Clinic.
About Evergreen Eye Center
About Evergreen Eye Center: Evergreen Eye Center was founded in 1989 by John S. Jarstad, M.D., who had a vision of a state-of-the-art surgery center serving the Pacific Northwest. He envisioned the facility as a recognized center-of-excellence, with a highly advanced surgery center and a knowledgeable and compassionate medical team that would provide a superior level of eye and patient care. Today, over 20 years later, Dr. Jarstad's vision of Evergreen Eye Center as a leader in comprehensive vision care excellence has become a reality. The team of over 80 dedicated and caring professionals and 5 board-certified Ophthalmologists, provide comprehensive eye care from routine exams to highly specialized treatment and surgery.