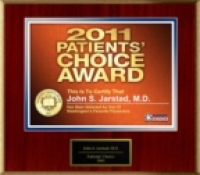 FEDERAL WAY, Wash., March 2, 2012 /PRNewswire-USNewswire/ — A select few physicians were honored with the prestigious 2011 Patients' Choice Award, and this year they include Dr.John Jarstad, M.D.
Only doctors who have received top scores by their patients and pass other quality measures are awarded the Patients' Choice Award. In fact, of the nation's 720,000 active physicians, just 5 percent were accorded this honor in 2011.
Every month, millions of patients across the U.S. access websites like Vitals (http://www.vitals.com) to share feedback about their experiences with their doctors. Patients rate various components of the care they receive, such as the accuracy of their diagnosis, the amount of time they spent with the doctor, and the doctor's bedside manner and follow-up care. Patients' Choice ranks the top reviewed physicians and looks at other quality measures to compile its yearly list.
Dr. John Jarstad, M.D. commented on the recognition: "This is quite an honor for me. I am very pleased to have been selected and grateful to my patients who went out of their way to rate me and give me positive reviews."
About John Jarstad, M.D.: a short profile by and about the honoree:
Dr. Jarstad is the founder and CEO of Evergreen Eye Center with offices in Federal Way, Auburn, Enumclaw and Burien. He is a graduate of BYU, University of Washington Medical School and received his ophthalmology training at the world famous Mayo Clinic in Rochester, MN. He has invented several instruments for eye surgery and is a native of the Seattle-Tacoma area. He was the first eye surgeon to perform cataract surgery without the use of stitches in Washington state.
For more information on this Patients' Choice Award winner, please visit Dr. John Jarstad, M.D.'s profile on PatientsChoice.org.
Following the publication of Dr. John Jarstad, M.D.'s selection for the Patients' Choice Award, American Registry seconded the honor and added Dr. Jarstad to The Registry™ of Business Excellence. An exclusive recognition plaque has been designed to commemorate the honor. The doctor's custom wall plaque is shown here.
For more information on Dr. John Jarstad, M.D., located in Federal Way, WA please call 800-250-7978, or visitwww.evergreeneye.com.
This press release was written by American Registry, LLC, with approval by and/or contributions from Dr. Jarstad and was distributed by PR Newswire, a subsidiary of UBM plc.
Patients' Choice provides in depth information on doctors in your area who have been recognized and awarded for outstanding patient care and expertise. The Patients' Choice Award is the honor roll of physicians who have received the highest ratings by their patients.
American Registry, LLC, recognizes excellence in top businesses and professionals. The Registry™ includes over 2 million significant business and professional recognitions. For more information, search The Registry athttp://www.americanregistry.com.
Contact Info:
Dr. John Jarstad, M.D.
Phone: 800-250-7978