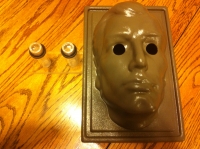 Federal Way, WA., April 23, 2013 –A new cataract surgical device developed by John S. Jarstad, M.D., F.A.A.O. – Adjunct Associate Professor, Pacific NW University C.O.M. and Medical Director of Evergreen Eye Centers, Federal Way, WA – has been unveiled this past weekend at the American Society of Cataract and Refractive Surgeons (ASCRS) symposium in San Francisco. The Jarstad Cataract Surgery Trainer is a practice system providing surgical training that enhances skills, reinforcing fine motor skills and muscle memory, to help optimize surgical procedures in the operating room.
The system, available through Gulden Ophthalmics, is comprised of the Jarstad-Stone lifelike simulation teaching head, two acrylic cylinders that hold the Jarstad eye module or animal eyes, blue plastic cellophane sheeting that simulates the capsule, kaolin clay that simulates the mature cataract, and an instructional video DVD. The system permits ophthalmology residents in training or experienced surgeons who wish to refresh their skills, to experience the required decisions and tasks involved in performing cataract surgery in a virtual environment; beginning with a capsulorhexis prior to phacoemulsification. It is a less expensive and more convenient and lifelike training system than other training options. Hands-on, it enhances fine motor skills compared to some virtual computer-based systems, which are often much more expensive.
According to the Department of Ophthalmology at the Boston University School of Medicine, "The step of capsulorhexis not infrequently inspires fear and trepidation in the beginning phacoemulsification surgeon." However, a measured, well-planned, and practiced approach using the Jarstad Trainer can instill confidence and higher level skills while minimizing complications.
The Jarstad Cataract Surgery Trainer utilizes the highly authentic Jarstad-Stone teaching head, developed in conjunction with an engineer from the Boeing Corporation, that is more lifelike than other teaching heads – making training and practice more realistic. It also provides a grooved channel around the perimeter to safeguard surgical tools. The system has been demonstrated and proven successful in teaching capsulorhexis to over 50 ophthalmic surgical residents to date. It is durable, intuitive, simple to set up, and easy to clean.
For more information about the new Jarstad Cataract Surgery Trainer please contact:
Karen Jarstad | Evergreen Eye Center