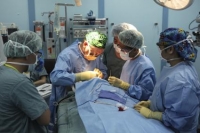 GREG ALLMAIN
Article from Federal Way Mirror reporter Nov 07 2012
Dr. John Jarstad, a renowned ophthalmologist and CEO of Evergreen Eye Centers in Federal Way, will share his experiences from a recent medical mission with the United States Navy "Pacific Partnership" program.On his four-month mission, Jarstad performed approximately 268 cataract surgeries and dozens of other procedures for impoverished people in Indonesia, Vietnam, Cambodia and the Philippines.
"It was really great. There's a totally different culture there," he said of the varied countries he visited with his wife, Patricia, a licensed heath care volunteer.
The Jarstads will share their experiences at 7 p.m. Friday, Nov. 16, at the Church of Jesus Christ of Latter Day Saints in Federal Way, 841 S. 308th St. Admission to the event is free, and all are invited to attend.
When it came to visiting Vietnam, John Jarstad said there was a strange juxtaposition between this time and the last time he thought he might be visiting that country.
"I was in the last group drafted for the Vietnam War, and the war ended before our group was supposed to go, so we didn't have to serve," he said. "That was something that was a little eerie, to go over there and actually help the people that I would have been interacting with in totally different circumstances (in the past)."
Part of Jarstad's mission was to perform surgeries, and also exchange information, he said.
"We also taught the local doctors the newest technology we brought along, and let them come on board the ship, and operate on their own people under our guidance," he said. "And then we had an information exchange, with the leading doctors in Indonesia, who came on ship and lectured. They also observed and showed us a few techniques (they've developed) on their end."
Jarstad said this trip was different because he was allowed to go onshore to work and teach in local hospitals. Previously, everything was done onboard the Navy ship that was part of the mission.
"That was a first for the Navy, and I have to give credit to the commanding officers. … They kind of went out on a limb to let me do that because it's not part of the protocol and had never been done before," he said. "After the trip, they decided that's something they would do in the future because it was huge success, according to them."
Cataracts were the most common malady, Jarstad said, because of the equatorial environment and increased exposure to ultraviolet rays from the sun. A curious social view that is prevalent throughout much of Southeast Asia seems to cause the cataracts, Jarstad noted.
One patient that stood out among the hundreds he treated, Jarstad said, was a 9-year-old girl in Vietnam.
"She received excessive radiation to a tumor above her eyebrow, and it really caused a lot of radiation damage, and a droopy eyelid, and her eyelashes were turned in and rubbing on her eye. She had several things wrong with her, including an ear that looked really terrible, like a scarred, cauliflower type ear," he said. "And so we started in on her and repaired her eyelid and were able to find a dermatologist on the ship who could resurface her skin. At the end, she looked really great except for her ear. I was able to get one of the local Vietnamese doctors, who was an ear specialist, to fix that ear."
"It was really successful," he added, "and the girl had a million dollar smile at the end, which really made it worthwhile."
Check it out
Dr. John Jarstad and his wife, Patricia, will share his experiences at 7 p.m. Friday, Nov. 16, at the Church of Jesus Christ of Latter Day Saints in Federal Way, 841 S. 308th St. Admission to the event is free, and all are invited to attend.
Federal Way Mirror reporter Greg Allmain can be reached at gallmain@fedwaymirror.com or 800-250-7978 ext. 5054.