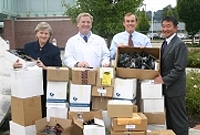 In 2008, the Evergreen Eye Center's Dr. John Jarstad again led the Save Old Spectacles (S.O.S.) program, an annual drive put on by local Kiwanis clubs across the United States to provide eye glasses to people in developing countries.
Dr. Jarstad, who has been involved with S.O.S. since 1993, once again partnered with the Federal Way Kiwanis, Pete von Reichbauer of the King County Council and King County Metro for this year's campaign.
The eyeglasses donated to this year's drive include over 3000 pairs collected from King County Metro's Lost and Found, which were presented by Mr. von Reichbauer and King County Department of Transportation Director Harold Taniguchi at Auburn's Sound Transit Station in September.